Here is the video from the live interview: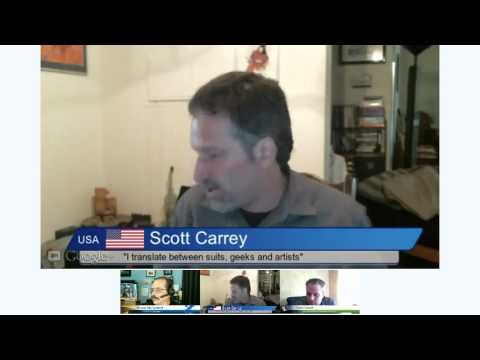 Please Join me on Monday July 23, 2012 as I welcome Scott Carrey of SK Carrey Productions.
Make sure you have me in your circles on Google Plus or bookmark my YouTube channel!
If it has a battery, plug or involves Media, Technology or Marketing – Scott Carrey can help you with it!
Scott brings a unique hybrid of business, technological and creative expertise to any project and is known for his ability to translate between suits, geeks and artists. He has been intrinsically involved in entertainment and technology based organizations for over 20 years and is considered a leading expert in Digital Media Workflows. He has worked with such companies as Warner Bros., Columbia Pictures, Touchstone, MCA/Universal, Sony Music, Playboy, MTV, Digital Domain, Sprint, IBM, McDonald's, and many other film, TV, and commercial clients, not only in the U.S., but also Europe, and Asia.
Scott has served on many professional boards including being a member of the Mayor of LA's Multimedia Roundtable and as a peer group member of the Academy of Television Arts and Sciences. He currently sits on the Steering Committee of the prestigious Caucus for Producers, Writers and Directors, representing the area of New Media and Digital Initiatives. He regularly speaks on professional panels and at academic facilities and truly loves sharing knowledge and empowering others.
Scott's focus these days is in the ever evolving area of Convergence and Integrated Media, where he is continually exploring traditional techniques and implementing and monetizing them in new and unique ways. Scott has worked with budgets in the multi-millions of dollars and has managed large teams of staff. He is a strong systems builder and administrative manager, with vision and the unique skill set to both run the day-to-day operations, as well as oversee the creative and technical needs of almost any media project.
You can track Scott down in any of these places:
http://www.linkedin.com/in/scarrey
http://www.twitter.com/scarrey
http://www.facebook.com/SKCarreyProductionsInc
http://www.youtube.com/scottkcarrey
https://plus.google.com/u/0/107367814973669429349/posts#107367814973669429349/posts
Share and Enjoy