We're the ones you hire to clean up the mess left behind by that $25/hour bookkeeper you tried to cut costs with.
"If you think it's expensive to hire a professional, try hiring an amateur"
People get the concepts of bookkeeping and QuickBooks confused.
QuickBooks is accounting software.
Bookkeeping is one aspect of what you do with QuickBooks.
The problem many business owners encounter is that while looking to save a buck on bookkeeping they hire the bookkeeper who is only charging $25/hour. Or worse. I recently spoke with someone who was looking for a bookkeeper to handle rental real estate in QuickBooks and he only wanted to pay $12/hour. I can only wish that guy luck, but more than likely he will wind up spending a lot more money later on either with me or someone else to clean up the mess left behind. He may not even realize it because if it gets to the point where the books wind up in the CPA's hands, depending on the CPA, they might clean it up and simply bill him for it and he thinks he's paying a lot to get his taxes done.
The $20 bookkeeper in most cases based on my experience has gone and bought a copy of QuickBooks and learned how to use it by filling out the forms like a check or an invoice. This is not bookkeeping!
Are you a small business who uses QuickBooks?
Do you need help with entering transactions into QuickBooks ? You need Someone who really understands not just how to enter transactions into QuickBooks but who knows the accounting and bookkeeping fundamentals.
Call right now (866) 945-8070 To schedule a consultation.
There is a good chance that your CPA is having to spend time each year doing bookkeeping because either you or your current bookkeeper do not really have the experience needed and there is cleanup work that your CPA is doing each year at tax time. This is costing you money that could be better spent elsewhere.
We can save you time, money and a relieve a whole lot of financial headaches!
Our first goal is to make sure you have a set of books that is accurate and reliable.
Our second goal is to provide you with interim financial statements from your QuickBooks file for your review (we'll make suggestions and then you tell us what you need and how often).
Our third goal is to make sure that you understand these QuickBooks reports and what they tell you about how your company is performing.
Our fourth goal is to save you time and money by providing an accurate set of books that your CPA or tax professional knows they can rely on so they don't have to bill you for bookkeeping services.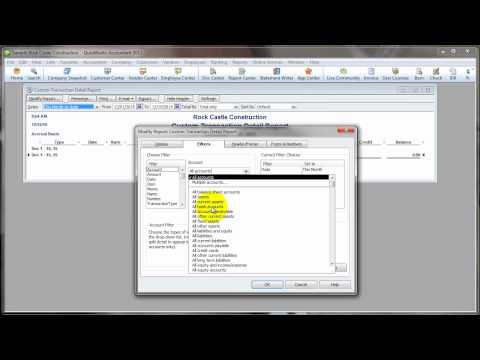 Many people think of us as a training resource now but we didn't start there and we certainly haven't finished there. We do offer bookkeeping services for small businesses who use QuickBooks. In the beginning companies hired us for QuickBooks help. We would come to your office once/week or however often is needed, get your transactions entered into QuickBooks and then work with you to make sure that you were getting the right output and understanding it.
Call right now (866) 945-8070 To schedule a consultation.
If we just put a P&L on your desk for you to review when you have time is that really helping you? 
We feel you are better served by having us handle this remotely. The main reason for this is that remotely we can each be sitting at our own computers and reviewing your live QuickBooks file online. A printed report can only tell us so much and besides, we love trees! We would prefer to be looking on with you so that when you look at a number on the profit and loss and you think it doesn't look right or you just don't understand it, we can drill into the number to see precisely where it is coming from. Sometimes it is a matter of classifying transactions in a way that has you feeling better about the way that your financial information is presented. Other times this review process will help us detect and prevent problems from growing into situations with much more serious consequences.
There are a few ways we can work together. 
We can have you set up a gotomypc account and we can remote into your computer (but this means you have to free up a computer when we go in).
Or we can set your company file up on a ShareFile server. What this means is that we both have access to the file 24/7 but only one of us can be in it at  one time. Usually you will have access to the file 99% and we will schedule it with you when we are going to go in which means you have to make sure you are out of the file and synced up beforehand.
Finally we can have you upload your QuickBooks file at scheduled times and then we send it back to you updated. This is really the best way, but it requires intervention on your part so it may not be ideal for you.
Fees and Delivarables
The fee/cost will of course depend on the scope. To manage just the bookkeeping would likely cost about $500/month. We keep the books up on a weekly basis for you and each month we can provide you with a set of pre-defined reports. Once the bookkeeping and QuickBooks information is in place, reports are easy to set up and memorize so that in a click or 2 we can run what you need and send it to you.
During the rest of the month if you give us access to any banking or credit card accounts then we can operate pretty autonomously in terms of making sure your books are kept up to date and of course keeping you apprised of all relevant issues as we go.
If you do not feel comfortable giving us this access (and we understand that completely, many clients take a month or two before they have this comfort level) then we can walk you through how you can go online on your own and furnish us with the needed info. In cases like this we like to get a PDF of all statements so we can reconcile and then a CSV (MS Excel) export of the transactions. This helps tremendously with the data entry.
We can (and should) have a monthly meeting online together. The software we use for our online training works really well for this so we can share screens. This allows us to work together just as if we are sitting in the same room in front of QuickBooks.
Finally if you were interested in this level of service we have a "Business Management" solution in which we offer to handle everything for you. This means we get and pay all of your bills and manage everything for you.  This solution would run you more like $3,000/month and we become your entire back office solution – Accounting and Bookkeeping, Human Resources, document storage and management. EVERYTHING!!
Please call me (866) 945-8070 and I would be happy to discuss this with you further.
Then we can get more into the specifics of your situation and what it might look like if we were to start simplifying your life with respect to handling all of your bookkeeping needs.