Nerd's School Of Bookkeeping With QuickBooks is a book in a blog. Unlike an actual book, you can interact by posting comments on chapters and you have live videos you can watch. No DVD with screen shots, but watch right inside the chapter. Note the controls on the video player. It will probably help to enlarge the video to a full view while you are watching. It will be especially useful if you have two screens connected to your computer. This way you can watch on one and practice on the other.
School Supplies Needed
Have QuickBooks installed on your computer
Set up one brand new company file
Open up a sample company file
This will give you what you need to practice what I am showing you throughout this book in a blog.
How To Learn With Video
The way to learn with video is to watch a few minutes of the video and then go practice what you've learned. The course will give you some Excel templates to download. USE THEM! They will help reinforce what you are learning here so that when you complete the course you really will have the foundation that this course is designed to give you. You will have a real edge up on other bookkeepers and if you are a business owner you will likely have an edge up on your own bookkeeper, unless of course you sign him or her up for this course
If you haven't already, be sure and watch this virtual tour. There is important information here about the video player used in this book in a blog: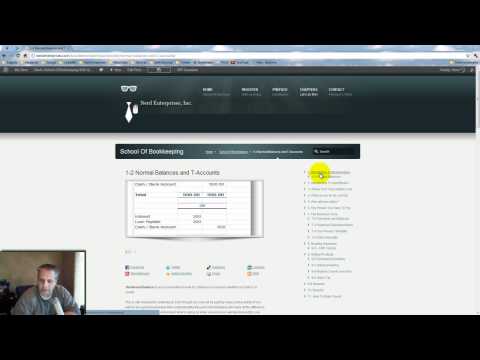 Question:
I am a small business owner interested in learning bookkeeping. Will completion of this course enable me to be knowledgeable enough to be hired to do bookkeeping (besides keeping my own books)? Also, are there hands on, practical exercises within the training so we lean by doing?
---
In my opinion, the answer is "Yes" I designed this course to help someone who wants to have a career in bookkeeping so that when you're finished you will have the tools to actually go out there and handle the books for other people. There is no certification here, just hands on practical knowledge with many many video tutorials so you can see firsthand exactly what it looks like and how it all works.
Also there are templates to download and in many of the videos I actually invite you to pause the video and go practice what I've just gone over. So what I would suggest is that you go through all of the videos in that manner. Make sure you have QuickBooks installed on your computer and set up 2 files; (1) a completely new, blank company file and (2) a sample company file (ideally one that deals with both products and services). These will become the practice or exercise files for you to play with what I am demonstrating.
The downloads are going to be Excel files that I use to demonstrate the "raw bookkeeping" debits and credits so that you can really understand what is going on behind the scenes and not just what is in QuickBooks. This will enable you to become a much more powerful QuickBooks user because you won't be simply filling out forms. You will have an deep understanding of how your entries will affect the financial statements. This will make you more effective in posting your transactions as well as in finding and fixing problems!