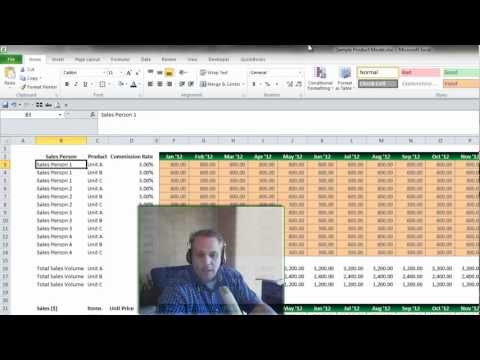 Previous Posts:
Introduction To Product Modeling With MS Excel
Product Modeling Part 2 – Break Out Your Units
Let's say you sell cheese for a living. Hopefully your sales plan doesn't have any holes in it
Ok that was a bad joke I admit it!
Seriously though how many more units of cheese (or whatever you're selling) could you be selling if you had sales reps working for you? Most of us I think would agree that we could really increase sales if we could only afford sales reps. The mistake is in assuming that we cannot afford them, and for that matter the biggest mistake is in not even sitting down to see what it would take (ie cost) to bring in some sales people to do the job. This way even if it turns out that we cannot afford the sales reps today we know what we have to do to get to a point where we can afford them, and we know what it will do for us once we do have them.
When I sat down to record this video I thought I could do something that walked you through it all in less than 10 minutes. Turns out I couldn't. There was just too much information to give you, so I recorded a separate "free" version and the full version of the video is available as the first part of my Book In A Blog on Cash Flow.
In the full version of the video you will learn the following formula writing techniques;
Sumif – to accumulate the sales by product for all of the sales reps and products.
Vlookup to figure the commissions for each sales rep by product so you can set unique commission rates for each product.
Absolute vs relative referencing within formulas (you may not even know what this means but trust me when you learn you will be so glad you did)
Meanwhile I hope you enjoyed the video (above) and please post your comments and questions below!

Share