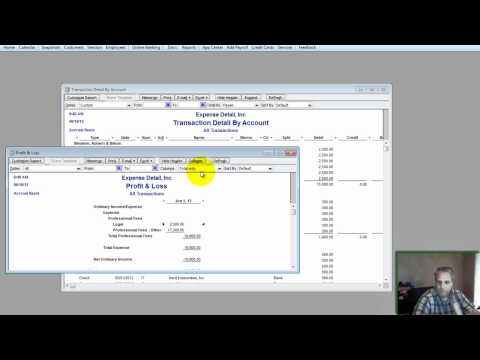 Earlier this year I wrote an article about getting your QuickBooks information more organized. In this post and video I explained that one way to get things more organized is to consolidate accounts by merging them. The idea was that often times we have much more detail than we really need at the top level. This detail is easily accessed in QuickBooks by simply drilling into the numbers from the P&L and totaling by payee or whatever makes it easier to read and interpret what went into the amounts that get reported on the profit and loss statement. Are there times when we want to go the other way and take an existing account and expand it into two or more sub-accounts? Of course there are.
The best way to expand the account into it's new sub-divided structure is to use an accountant's edition of QuickBooks so you have the 'Client Data review' feature. This enables you to quickly reclassify transactions in batches based on payee by account. If you don't have this feature and you don't know anyone who does – hello I do J then your best bet is to drill into the account and total by payee because usually the account that something is sub-divided into is going to be payee driven right? Of course. Then you can go into each transaction within a payee, create the new account while you are editing that transaction and then copy the account to the clipboard. You will also want to modify the drill down report to show the account so that you can see which ones have been updated. Then edit each transaction within each payee pasting the new account in there and saving the transactions. If this sounds unclear I am confident the video will clear it up.
The video shows you both methods (Client Data Review, and Total By Payee). Still need help? Visit my QuickBooks Training page or post your comments below.

Share