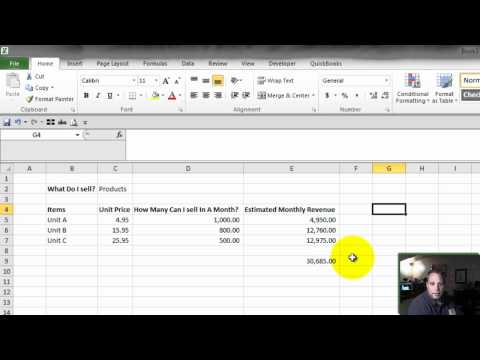 When you sell products for a living it is a good idea whether you are just starting a small business or already running your business full steam ahead to spend some time planning your product sales. This is often the beginning of your financial modeling process where you "model" your business. You decide, what you sell, how many you think you can sell and how much you will sell them for. Then you want to figure how much you can expect to increase your sales from one month to the next. This can be thought of as a "goal" or an expectation. If you are looking at this as a "goal" then you might be more aggressive about it. If you are looking at it as more of a "projection" then you want to be conservative. These things can get quite complex in that you can estimate average # of orders per month, average order size, and then even build price points into your model so if you assume a certain amount of sales over certain levels you can figure your revenue based on this. We'll cover that in future videos/posts but for now I want to keep it simple. One price for all levels and one conservatively set expected monthly sales increase.
The key to developing a financial model for your business is to start simple and then expand. So first I just write formulas to accomplish what I want initially. Then I start extracting the variables and setting them up as "Assumptions" so that I can change certain key pieces of information to see the impact at a glance. So you will see in this video that when I am finished I have one place where I can change my monthly sales increase and the entire schedule updates. We can expand more and more from there, but this is where it starts.
In this video I show you how I set this up and even give you some insight into how I work with clients when I am developing something like this for them.
Watch and Play
Watch the video and then play around with a blank spreadsheet. Try creating what I've created here and see how you do. Then post your comments below and let me know if you have any questions or if you found this useful. How do you think you might use this in your own business?
Move on to Product Modeling Part 2 – Break Out Your Units
Want the Excel template from this video?
Would you like to hire us to develop your financial model for you? Check out our Financial Modeling Services page.
Share